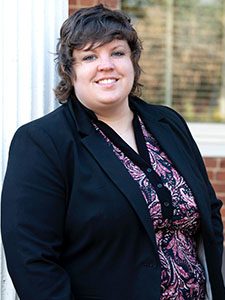 Holli Workman-Holmes
MDiv, Counseling Intern
A native of South Carolina, Holli moved to North Carolina to pursue her goal of becoming a mental health counselor. She joins Aspire as a graduate student intern receiving supervision while she finishes her last year of the Master of Arts in Clinical Mental Health Counseling program at Campbell University. Holli believes in the counseling process and has a desire for her clients to find healing, inner peace, and empowerment within themselves. Her hope is for her clients to grow in resiliency as they face the good and bad life may bring.
Being an "L" within the LGBTQIA+ community who was raised in an oppressive religious environment, Holli has a deep passion to work with clients who have experienced religious/spiritual trauma. She received a Master of Divinity from Campbell University in 2019 to prepare for working with this population. She welcomes all sexual orientations and gender identities with open arms and support. She is interested in working with clients who may be experiencing anxiety, depression, identity issues, transgender issues, PTSD because of sexual orientation or gender identity, career/life transitions, or grief.
Although Holli is in the process of discovering her counseling style, she resonates most with Person-Centered and Existential counseling theories. She believes that people are the experts of their own stories, and she is eager to learn about their lives from their perspective. She looks forward to walking alongside her clients as they search for meaning in their lives.
In her free time, Holli enjoys spending time with her wife and dogs, raising her 6 chickens, playing acoustic guitar, writing songs and poetry, and doing almost any outside activity. She considers herself to be an extrovert who is energized by being with people and having spontaneous adventures.
Counseling Intern appointments are offered on a sliding scale from $20-$55/session.