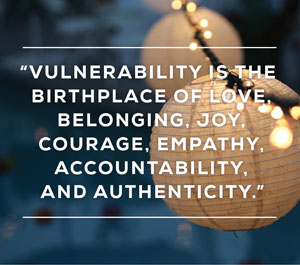 Rising Strong™ is based on the simple physics of vulnerability: If we are brave enough, often enough, we will fall. We all have stories of struggle, and those can be difficult to navigate.
The Rising Strong™ workshop series helps all of us who have experienced falls, big and small, learn how to reckon with our emotions and rumble with our stories, so we can experience the revolution of a wholehearted life. The program – based on Brené Brown's research in her books, "Daring Greatly" and "Rising Strong" – takes us through the process of learning how to get back up and how owning our stories of struggle gives us the power to write a daring new ending. Struggle can be our greatest call to courage and the clearest path to a wholehearted life.
Aspire Counseling Group's certified facilitators lead the Rising Strong™ workshop in a multi-week format. While this program builds on the lessons from The Daring Way™ workshop, the Rising Strong™ program can stand alone as a guide for exploring our vulnerabilities. You can participate in The Daring Way™ or Rising Strong™ programs in any order.
The Rising Strong™ workshop is open to everyone who is interested in getting curious about their feelings, being truthful about their stories, and engaging in a process that creates a more fulfilling life. No prior counseling is necessary.
"Our job is not to deny the story, but to defy the ending – to rise strong, recognize our story, and rumble with the truth until we get to a place where we think, YES, this is what happened. This is my truth. And I will choose how the story ends."