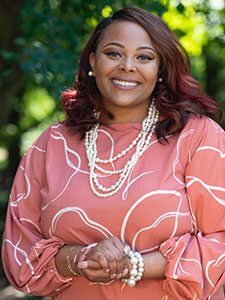 Dimica Lawrence, MSW, LCSW
Pronouns: she/her/hers

Dimica is a Licensed Clinical Social Worker Associate who has worked with adults, children, and families for many years. After earning a Bachelor's in Social Work from East Carolina University in 2017, she went on to complete her Master's Degree in social work at North Carolina State University by way of their Advanced Standing Program. Before graduating in 2018, Dimica became an HRSA (Health Resources & Services Administration) scholar, a program aimed to promote integrated behavioral health care and treatment services in underserved communities.
Dimica has worked with clients facing various challenges, including family and relational challenges, domestic violence offenses, oppositional behaviors from youth and adolescents, trauma, and understanding the experiences of persons diagnosed with Intellectual and Developmental Disorders. She has provided therapeutic services in schools, correctional facilities, homeless shelters, and other outpatient settings. Utilizing a flexible approach, Dimica meets clients where they are in their process, allowing them to lead their own emotional wellness journey.
Over the years, a bulk of Dimica's professional experience has been dedicated to working with youth and their families. She is well-versed in providing family and co-joint therapy sessions, helping clients better understand communication and interactional patterns. In addition, she has taken a professional interest in understanding and advocating for how Autism Spectrum Disorder and other Intellectual and Developmental Disorders affect the mental health and emotional well-being of those diagnosed.
She believes that the therapeutic relationship is a collaborative effort, knowing that clients are the experts of their own lives. Through the provision of psychoeducation and incorporating appropriate evidence-based practices, she strives to help clients increase their self-awareness, emotional intelligence, and resilience to the stressors of life. Emphasizing motivational interviewing and a strengths-based approach, Dimica supports her clients in understanding their power within their lives.